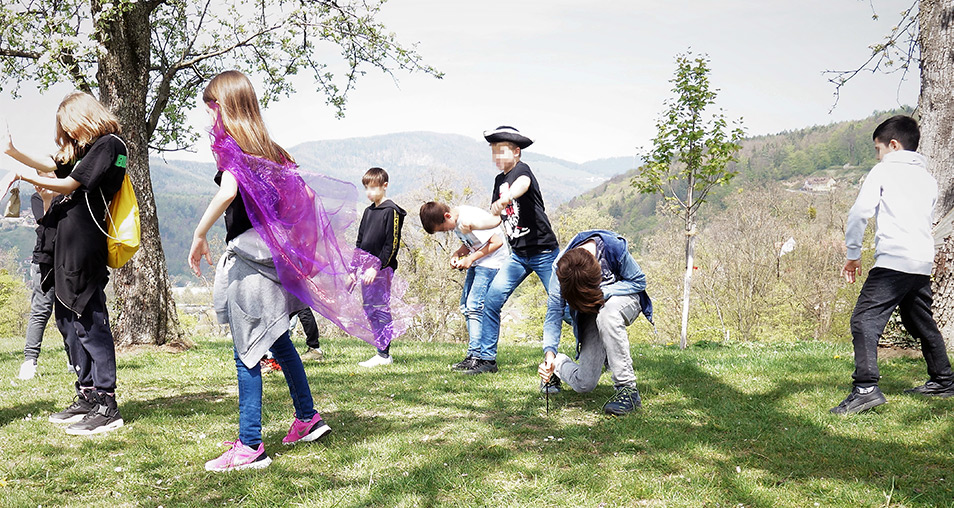 One crucial aim of Narrative Didactics is to engage students in exploring as well as entering the realm of stories and to familiarize them with topics. The workshop "When fairytales come true" – realized with children in the fifth grade of the "Modellklasse" at the sports middle school in Weiz – tried just that.   
As part of a larger project – which integrates a gradually unfolding narrative into the teaching and learning of relevant parts of the curriculum (in the subject of German) – the kids stepped into this very story. On their journey, which included relevant fairytale elements, they were accompanied by the creator of the project and co-founder of Narrative Didactics, Christina Poeckl, who used the technique of "teacher in role" portraying a magical creature within the workshop.
The students were quickly fascinated by the whole scenario, immersed themselves in the narrative through the different performative methods. They experienced the fairytale and created their own contributions to it.
In the three-hour workshop, the children developed a natural understanding of fairytales and even reluctant writers wanted to continue the narrative in written form. An anonymous online feedback confirmed their enthusiasm for performative learning and teaching.
School website: http://nms1.weiz.at/aktuelles